Which house pump do I need?
Typically house pumps have flow rates up to 60L per minute and pressures up to 6.5 bar (90psi). Generally they range from 0.5HP to 1HP, the difference being the number of outlets that can run satisfactorily at once.
Onga Homemaster Range
Onga's jet-assisted Homemaster pumps are designed for households where reliability, efficiency and ease of installation are important. There is a model to suit almost every situation. These Australian assembled pumps are mounted on a stable, moulded base for protection from corrosion and have totally enclosed fan-cooled motors.
Applications:
Domestic pressure system (with Presscontrol or pressure switch kit), water transfer, irrigation and garden water supply
Key Features:
Stainless steel casing provides strength and superior protection against corrosion and the elements
Precision moulded internals for high performance and durability
Coupled with a Presscontrol or pressure switch kit becomes reliable automatic pressure system
Loss of prime protection when coupled with Presscontrol
Excellent priming capabilities
Inbuilt thermal overload
Suction lift to 7.6 m
Range of models to suit most applications
Max. head - 44 m
Max. flow - 98 lpm
2 year warranty
Southern Cross CBI Series
Designed for automatic water pressure boosting in domestic applications, light industry, washdown, rural and stock watering.
Applications
Domestic pressure system (with Presscontrol), water transfer, irrigation and garden supply
Key Features
Presscontrol systems for excellent pressure and flow control without a pressure tank
Pressure Tank Systems with 8 and 18 litre tanks
Anti-corrosion tanks with fixed butyl diaphragms
All stainless steel pump construction
Brass suction line check valve supplied
Pressure to 550 kPa (80psi)
Easy installation and operation
Supplied with 1.8m lead and 3 pin plug
Output to 130 lpm for up to 11 tap supply
Presscontrol Features
For perfect pressure and flow control without a pressure tank
Presscontrol eliminates cycling and safeguards against dry running for total pump protection
No pump protection devices required
No adjustment required during installation or operation
Saves space — no pressure tank needed
Simple installation — 25mm male connections
Maintenance free
Saves energy through less pump starts and extends motor life
Warranty 2 years
Construction Materials:
Suction chamber 304SS
Pump housing 304SS
Intermediate chamber 304SS
Impeller 304SS
Shaft 431SS
Shaft seal SIC/Carbon
Drain and priming plugs 304SS
Base plate 304SS
Dab Esybox Mini
APPLICATIONS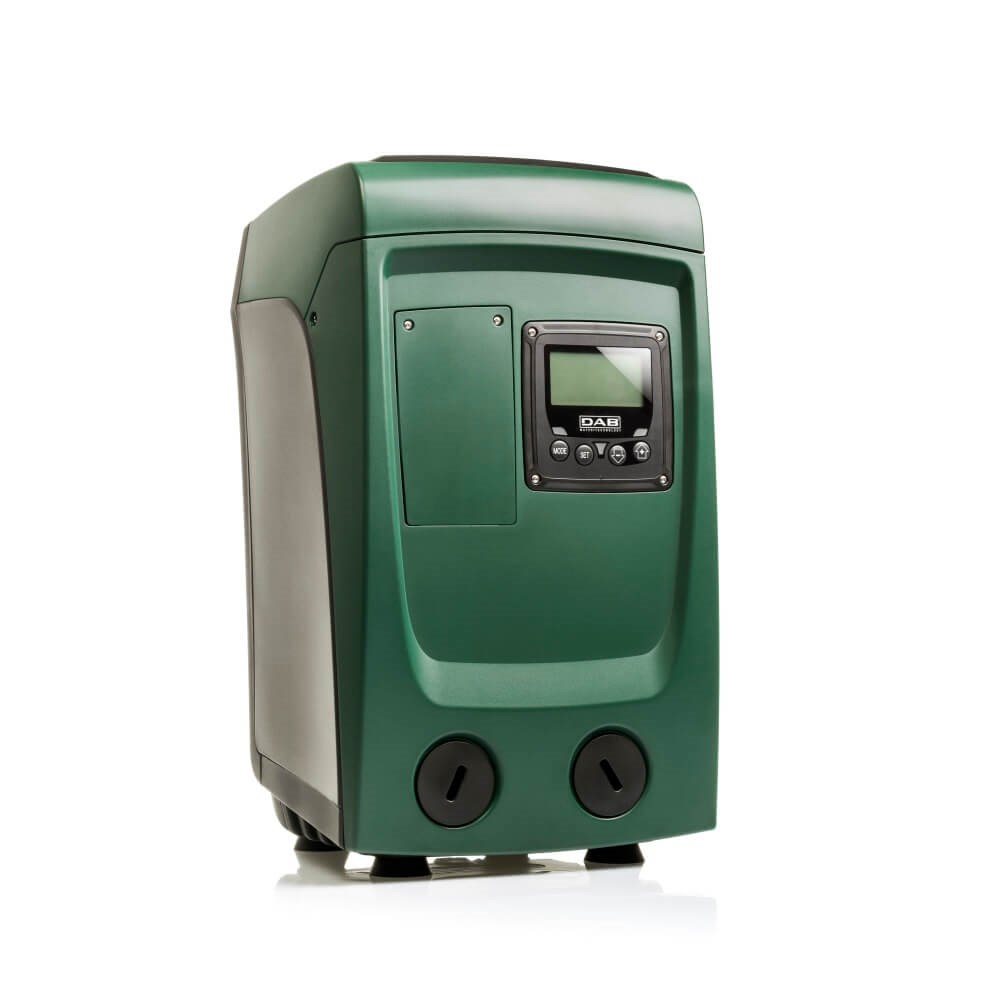 E.SYBOX mini is the DAB compact automatic pressurisation system for the water supply of a single dwelling. E.SYBOX mini guarantees the comfort of constant pressure (Pressure Set Point adjustable from 1 up to 5 bar) inside the system, and energy savings thanks to the inverter technology. Suitable for use with drinking water, in domestic systems, and in gardening applications. E.SYBOX mini does not require any additional components for its installation.
CONSTRUCTIONAL FEATURES
It consists of a high frequency self-priming double impeller pump, management inverter electronics, pressure and flow sensors, adjustable high resolution LCD display with 1 litre built-in expansion vessel, and cartridge check valve.
The double suction and delivery ports allow both vertical and horizontal installation. Thanks to its compact sizes, installation is also possible in difficult
places without high air exchange.
The E.SYWALL wall bracket allows wall installation, saving even more room.
E.SYBOX MINI is a self-priming pump with a capability of 8 metres in less than 5 minutes.
The water cooled motor, the anti-vibration feet and the electronics, make this product totally comfortable and compact.
Fitted with all the safety protections, as well as the protections for the safeguard of the pump. Particularly, the dry run, and the antifreeze protections.
All the parameters and the operating status can be displayed and set on the high resolution LCD display.
We also sell and service Davey, Grundfos, Lowara and Pumpmaster Pumps